Downtown Heritage Sites Gallery
City Hall Park
Located at 4914 - 48 Ave
City Hall Park, July 1955. Red Deer Archives. N3298.
City Hall Park dates back to 1902. A legal dispute dragged on for more than a decade before the property was finally awarded to the town. From 1914 to 1924 the park was used primarily for recreation purposes, such as ice skating in the winter and baseball in the summer. In 1943 the Elks Club built a paddling pool on the northeast corner of the park. The original City Hall sat along Ross Street just west of the pool.
In 1949, Park Superintendent, Hugh Gilchrist, drew up plans for an ornamental area at the west end of the park. In 1964 a new City Hall was built and the park was expanded to include the site of the old City Hall.
In 1964 a public library opened on the south side of the park. Today, the park is just as beautiful as it was back then. Hosting 40,000 annuals every year in a variation of colours and patterns in the summer and 100,000 lights in the Christmas season, the park is enjoyed by all who come to visit.
Historic Site Details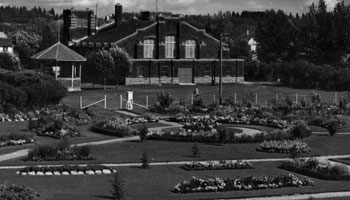 City Hall Park, ca. 1951. Red Deer Archives. P4466. 700X544.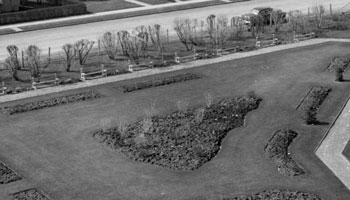 City Hall Park, 1956. Red Deer Archives. P6556. 700X545.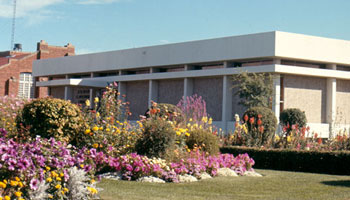 City Hall and Red Deer Centennial Library, ca. 1970. Red Deer Archives. N9526.