Mountview Heritage Sites Gallery
Horton Water Spheroid
Located at 3536 – 46 Ave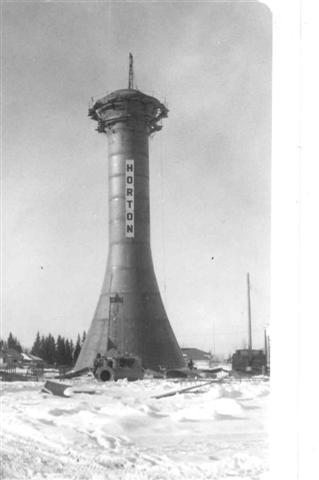 Construction of Horton Water Spheroid 1957 Credit: Red Deer & District Archives/City of Red Deer Engineering department
The Horton Water Spheroid was built in 1957 by the Horton Steel Co. It took 240 tonnes of steel and cost $275,000 to build. The "Green Onion" as it is fondly referred to, is 40.2 metres tall. The upper ball is 18.9 metres in diameter. With a capacity of 500,000 imperial gallons, Red Deer's Horton Water Spheroid was the largest spheroid shaped reservoir in the world in 1957.
With its height and unusual form, the Horton Water Spheroid is a highly visible landmark in Red Deer, and an important part of the city's built environment. The Horton Water Spheroid is still used as a storage reservoir for Red Deer's water, but it has not been used to create water pressure since the 1970s.
Historic Site Details
Horton Water Spheroid - 2008 - Historic Sites Inventory MG_7394-1.jpg
Horton Water Spheroid under construction, 1957. Red Deer Archives. P8970.