Heritage Tours
Learn about the people and explore the places that have helped shape our community as you enjoy the new heritage walking tours developed by The City of Red Deer.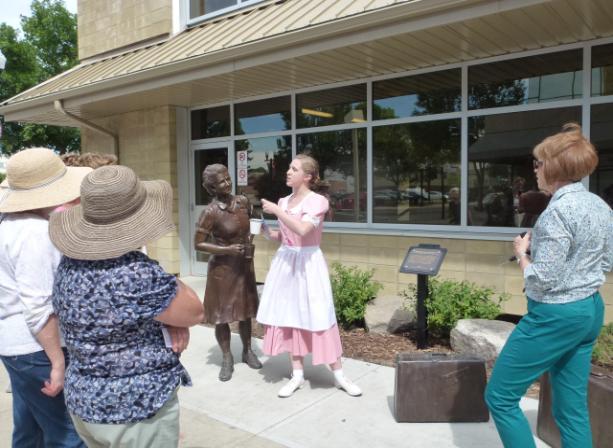 The tours are part of the Red Deer Revealed initiative, and they help to tell the story of our community's vibrant heritage. Red Deerians and visitors alike can choose to go on one or all of the tours, which will guide you through the city's downtown core.
The Ghost Collection Heritage Walking Tour (pdf) tour takes people to visit 10 life-sized bronze ghosts scattered throughout the downtown. Get to know the citizens, and animals that inspired these ghosts, and learn about the lasting impact they've had on the community. There is also a new Ghost Hunters Activity Map that encourages children to explore the ghost collection, providing a fun experience for the whole family.
The Saturday in the City Heritage Tour (pdf) tour shares the stories of Gaetz Avenue, or Little Gaetz, which was once one of the busiest streets and a major shopping destination in the city. As you stroll along the picturesque street, you will learn about the people and businesses that helped to shape Red Deer from its early days to the more modern era.
The First Impressions of Red Deer Heritage Walking Tour (pdf) tour gives a visitor's view of what Red Deer looked like in its early days. With the CPR Station providing the anchor point to the start of the tour, people will be able to imagine what it would have been like step off the train and embark on an exciting day of activities in the biggest city in the area.
The Red Deer War Memorial Heritage Tour (pdf) commemorates those from Red Deer and District who served in the Boer War, First and Second World Wars, the Korean War and peace-keeping missions. The tour includes 10 sites that have war memorials. The tour also includes three additional sites that played a significant role in the First World War. The first is the CPR Station which was the departure point for most of the service men and women. The second is the Red Deer Armoury which was the headquarters of the 35th Central Alberta Horse Regiment and the 187th Battalion of the Canadian Expeditionary Force during the First World War. The third is the Soldiers' Sanatorium, which was established in 1917 to treat soldiers wounded during the war. This tour was released at the end of July 2014 to coincide with the Centennial of the start of the First World War.
Download the Red Deer Revealed heritage tours:
Note: For individuals whose first language is not English who would like to enjoy the history of Red Deer in their preferred language, we recommend using one of the many language translators available on the internet or available for download on your smart phone device.