Downtown Washroom Pilot Project
A temporary washroom, placed downtown as a pilot project from June to October, 2021, will return in 2022. Located in Parking Lot P4 (4900 49 Street), the facility is open from 11 a.m. to 5 p.m., Monday through Friday. Hours are extended to 7 p.m. on Wednesdays to support the Downtown Market.
The trailer will be in place from May 1 to October 5, 2022.
The facility houses two washroom stalls that are wheelchair accessible and cleaned regularly.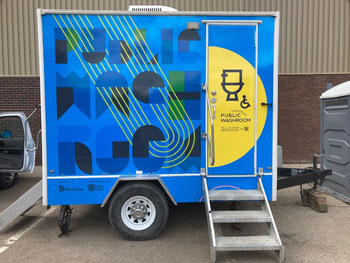 Frequently Asked Questions
Click here to learn more about Red Deer's downtown.