Servus Arena Facility Bookings
The Servus Arena can be booked year-round for seasonal ice and dry-space use. You can also book this facility for meetings, team wind-ups, birthday parties, tradeshows, and other various group gatherings.
Services include:
Concession area
Flexible modern change rooms
Laundry and skate sharpening for teams
Team warm up rooms
Fully accessible facility
Arena:
NHL sized rink.
Seating Area:
Room temperature seating for 1,360 spectators.
Meeting room: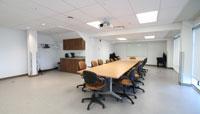 Occupancy for 30 people.
How to make a booking
Our booking specialist will ask you for details fo your planned event, discuss booking opportunities and amenities and walk you through the booking process. We will need sufficient notice to consider any booking requests, especially depending on the size and nature of your event.
Who to call
All facility inquiries can be directed to facilitybookings@reddeer.ca or you can reach us at:
Ideas for booking opportunities
party bookings
team wind-ups
office or school party
corporate meeting or conference