Downtown Commercial Heritage Sites Gallery
Alberta Meat Market
Located at 4921 - 48 Street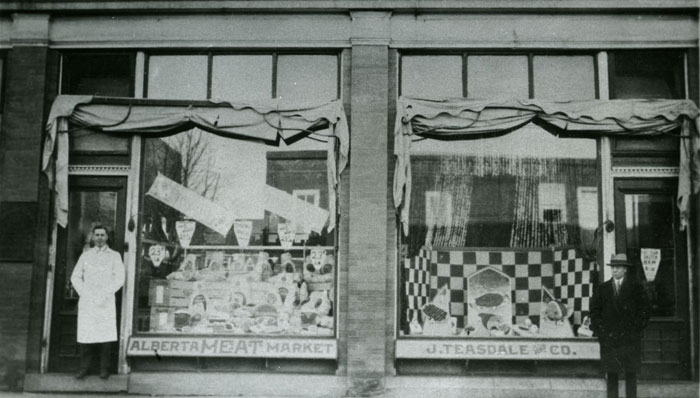 Alberta Meat Market display window, ca. 1910 - 1920. Red Deer Archives P127
In 1911, Sam Wilson and Fred Anquetil opened the Alberta Meat Market in the Hamilton Block at 5211 Gaetz Avenue. Hamilton's Bakery was also located in the building. In April 1912, John Teasdale purchased Anquetil's share of the Alberta Meat Market, and in 1927 he became sole owner of the business.

In 1919, at the age of 15, R.E. "Ed" Barrett started work as a meat delivery boy for the Alberta Meat Market. Barrett became the sole owner of the business in 1952 following Teasdale's death. In 1954, Barrett constructed this building for the business. When the new building was opened, the Red Deer Advocate stated that it was "as smart a butcher shop as you will find anywhere in the province".

Ed Barrett was very active in community affairs. He was elected as a City Alderman in 1961, and was the Mayor from 1965 to 1974. Barrett Park, Barrett Drive and Barrett Place are all named after Ed Barrett.
The Alberta Meat Market was closed in 1964. Since then the building has housed numerous businesses including the Red Deer Trading Centre, Adanac Electronics Sales and Service, McCools Crafts and Hobbies, Little Shop of Flowers and Balloons, and Records to the Rafters.
Historic Site Details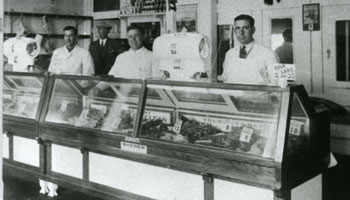 Alberta Meat Market, ca. 1910 - 1920. Red Deer Archives P126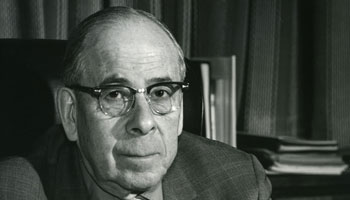 Ed Barrett, ca. 1973. Red Deer Archives P498