Downtown Commercial Heritage Sites Gallery
Brumpton Store
Located at 5003 - 50 Street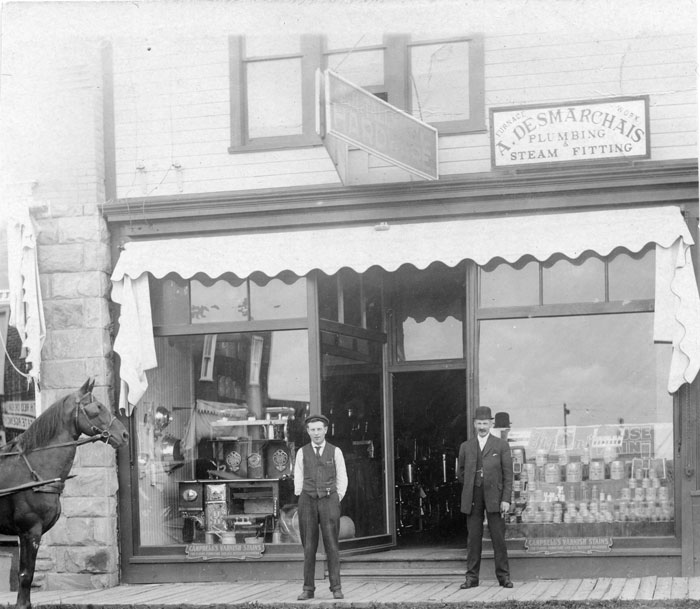 Brumpton Store storefront, ca. 1900's. Red Deer Archives P115
The Brumpton Store was built by Robert C. Brumpton in 1892 to house his general store which sold food, clothing and house wares. Brumpton sold the store in February, 1896 and moved back to Ontario. In 1897 he returned to Red Deer and opened a new general store. In 1907 Brumpton moved to B.C. but returned to Red Deer in 1908, and purchased his original Brumpton Store building from Ouimette, Wright Co. In 1909 he enlarged his store, adding the first public washroom for women in Red Deer. Robert Brumpton sold the Brumpton Store in April, 1911 to McLean Bros. from Stratford, Ontario.
Brumpton was one of the earliest residents in Red Deer and he was one of the towns' most prominent early businessmen. He was a founding member of the Red Deer Board of Trade and served as its president for a number of years. He was also a trustee and chair of the Public School Board. In 1901, Brumpton was elected to Red Deer's first Town Council. As Red Deer continued to grow, Brumpton turned his interest to the booming construction business and became a partner in the Red Deer Brick and Lumber Co.
The Brumpton Store building is the oldest surviving building on its original location in the downtown core.
Historic Site Details