Downtown Commercial Heritage Sites Gallery
Buffalo Hotel
Located at 5031 - 50 Street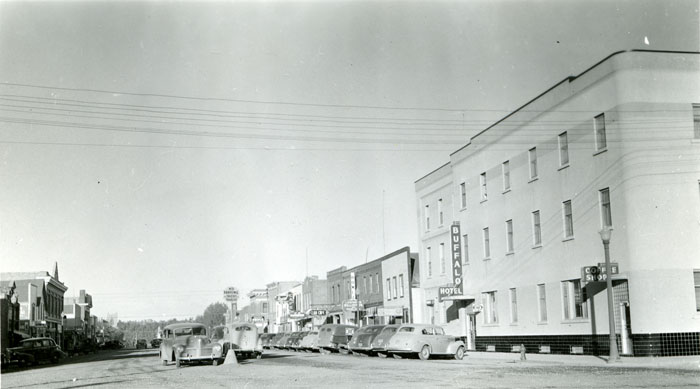 Buffalo Hotel, ca. 1940. Red Deer Archives P179
In 1903 George Beatty purchased the Alberta Hotel that had been built in 1892. Beatty then added a large three-storey brick addition on the east side of the hotel which is still standing today. Following Beatty's death in 1907 the hotel was sold to C.J. Rutter who in turn sold it in 1910 to the Rancher's Trust Company for $23,000. By 1916 with the introduction of prohibition laws and the start of the First World War, the Alberta Hotel was the only one of the city's early hotels that remained fully operational.
In 1920 the Alberta Hotel was purchased by the Calgary Brewing and Malting Company. In 1939 the company demolished the 1892 section of the hotel and added the current three-storey addition to the 1903 section of the hotel. The Calgary Brewing and Malting Co. renamed the Alberta Hotel the Buffalo Hotel after their company logo – the buffalo. The hotel renovation included a coffee shop, dining room, banquet room and separate ladies' beer parlour.
In 1959 the hotel's restaurant was renovated, and exterior two neon signs, important features in Moderne Streamline design, were added. One is located above the aluminium storefront and reads "COFFEE SHOP". The other, which is located on the north façade and reads "BUFFALO" is two storeys in height and is one of the last rotating neon sign bands operating in Alberta.
The Buffalo Hotel was recognized as contributing to the downtown Red Deer streetscape when it received exterior rehabilitation as part of Red Deer's Alberta Main Street project.
Historic Site Details