Downtown Commercial Heritage Sites Gallery
Capitol Theatre
Located at 4924 - 50 Street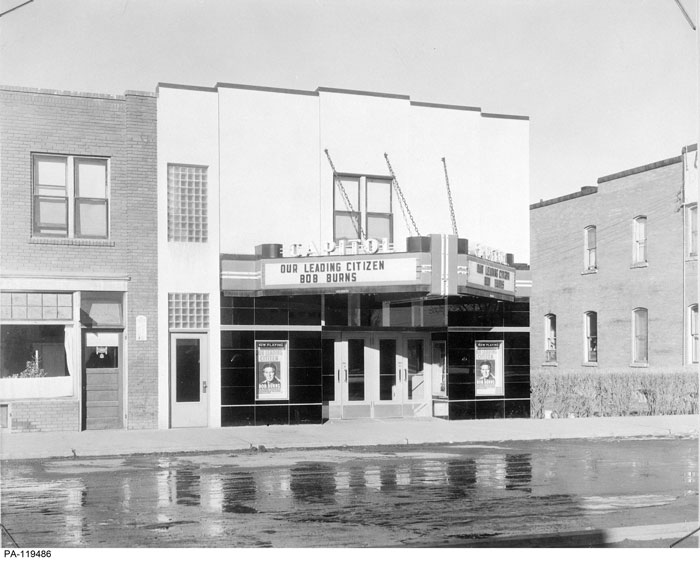 Capitol Theatre, ca. 1930's - 1940's. Library and Archives Canada PA119486
In 1938, Percy Wightman Johnson and Robert Morris Beatty acquired the Crescent Bowling Alley building and converted it into the Capitol Theatre.
H. Packer was the general contractor hired to convert the building into a state of the art theatre. The lumber and building materials were supplied by the Progress Lumber Co. No expense was spared in the new Capitol Theatre which seated between 450 – 500 people. The new building had exterior neon tube lighting, and black vitrolite glass readograph display letters. Inside it had 2 projectors, the latest in RCA sound equipment for perfect sound anywhere in the auditorium and air conditioning. The first movie shown in the Capitol Theatre was "Out West with the Hardy's" on December 22, 1938.
The Capitol Theatre remained in operation until 1960.
Beatty and Johnston were dedicated to their theatre, and to their community. Both served as members of City Council, and Mr. Johnston also served on the Hospital Board for several years. Mr. Beatty served as a City alderman from 1941-46 and was president of the Red Deer Golf and Country Club, Red Deer Curling Club, and Rotary Club.
Historic Site Details
| | |
| --- | --- |
| Land Use Bylaw Historic Overlay | HS - 9 |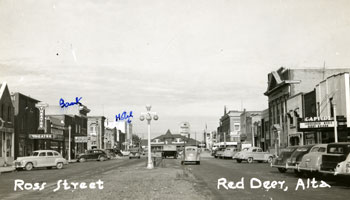 Ross Street and Capitol Theatre, ca. 1947. Red Deer Archives P2831