Downtown Commercial Heritage Sites Gallery
Farthing Block
Located at 4930 - 50 Street
Horseback riders passing in front of Farthing Block, ca. 1947. Red Deer Archives P789
The two-storey Farthing Block has a flat roof, a smooth stucco finish, a recessed storefront entrance and two sets of triple, three-over-one, double-hung windows on the second storey. It is significant for its simple modern commercial design and its association with World-War Two-era commercial development in downtown Red Deer.
In 1939 Hugh Farthing had the Farthing Block built by general contractor W.G. Houston. Farthing operated his Farthing's Photography Studio on the main floor and his family lived in a six-room suite on the second floor. In 1947 Farthing sold his photography business to Chuck Yackimchuck. Farthing and his family continued to live in the upstairs suite until 1951 when the photography store closed and was replaced by a variety store run by Sims & Huget Ltd. The store was part of the Robinson chain of 170 stores, twenty of which were in Alberta
The Farthing Block, built at a cost of $5000, was a small part of the $300,000 worth of new construction in Red Deer in 1939 – a record at the time and a signal that the Depression had finally ended.
The Farthing Block was recognized as contributing to the downtown Red Deer streetscape when it received exterior rehabilitation as part of Red Deer's Alberta Main Street project.
Historic Site Details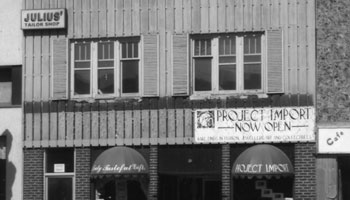 Farthing Block, ca. 2001