Downtown Commercial Heritage Sites Gallery
Gaetz Cornett Drug & Book Co.
Located at 4901 - 50 Avenue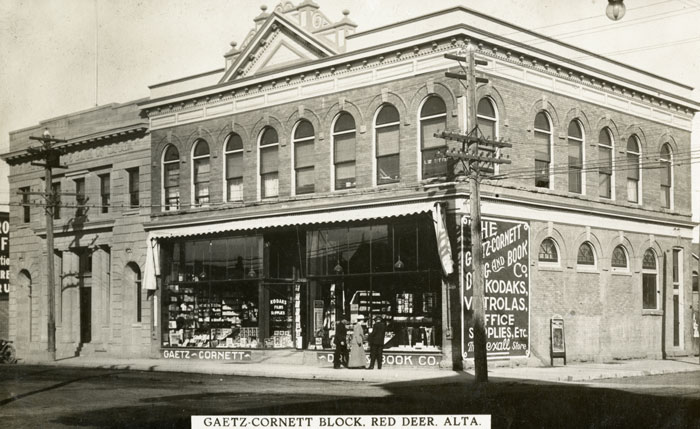 Gaetz Cornett Drug & Book Co. ca. 1910 - 1920. Glenbow Archives PA-3689-701
In 1891 Halley Gaetz established a drug store and stationery business on 50 Street. This was the first drug store established between Edmonton and Calgary. His store also housed the post office for the tiny community of 75 people. In 1897 Roy Cornett, a pharmacist joined the business: he became a full partner in 1907.
In 1903, with a growing town and growing business, Halley built a fieldstone and brick building at this location. The building had a flat roof and entablature with decorated cornice and frieze. With its wide range of items for sale, the store was an important community gathering place.
In 1916 Halley Gaetz left Red Deer when he was appointed Director of the School of Pharmacy at the University of Alberta. Roy Cornett continued to operate the business along with Gaetz's brother-in-law, William Stephenson, who managed the book and stationery departments. In 1935 Roy Cornett's son Thomas, joined the business after graduating as a pharmacist.
The building was demolished in 1978.
Historic Site Details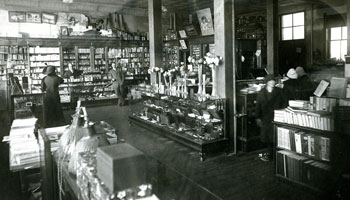 Gaetz Cornett Drug & Book Co. ca. 1920's