Downtown Commercial Heritage Sites Gallery
Scott Block
Located at 4818 - 50 Avenue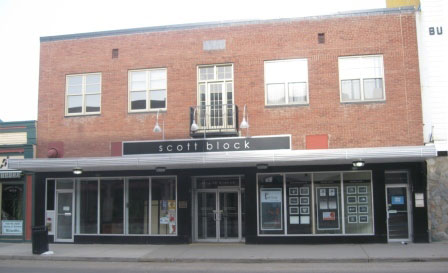 Scott Block after building exterior rehabilitation, ca. 2011
The Scott Block was built in 1946 for Charles Scott and his wife Margaret who moved to Red Deer with their seven children in 1935.
In 1935 Charles opened Scott's Variety Store at 5017 Gaetz Ave. In 1937, the store moved to a new location at 4810 Gaetz Ave. Between 1941 and 1946, Red Deer's population increased by 42 per cent which led to increasing demands for goods and services. In 1946 the Scott's contracted Hubert Packard & Co. to build the Scott Block which opened in May, 1947. The ground floor of the new building housed Scott's Variety (5 cent to $1) Store as well as a small café and Bud Bourke's Men's Shop. The upper floor was divided into 21 office spaces. In 1952 Scott contracted Western Builders to construct an extension which provided more space for the café and retail places.
In 1964 the Scott's sold their Variety Store to Steadman Bros. Limited. The new owners remodelled the Scott Block and added a new storefront that included vitrolite glass panels on the ground floor.
In 2007 the exterior of the Scott Block was rehabilitated as part of Red Deer's Alberta Main Street Project.
Historic Site Details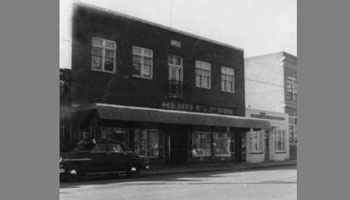 Scott Block, ca. 1964. Red Deer Archives - Scott Family