Downtown Heritage Sites Gallery
Canadian Pacific Railway (CPR) Station
Located at 5000 - 51 Avenue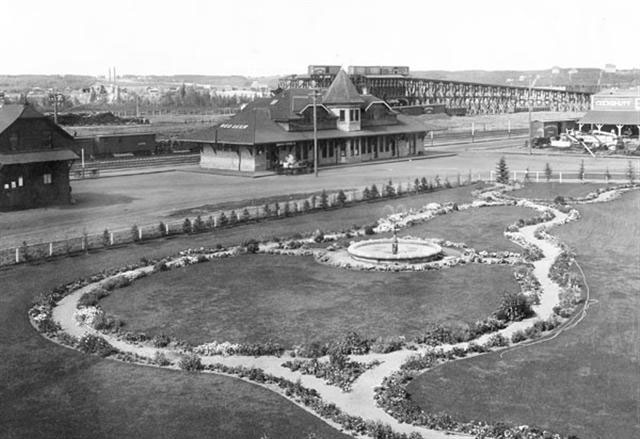 CPR Station and Park, 1910. Red Deer Archives. P3210.
The heritage value of the 1910 Calgary and Edmonton (CPR) Station Building lies in its association with the Calgary and Edmonton Railway, and with the CPR which took over the line in 1904. The railway played an important role in the settlement and subsequent growth of Red Deer as an agricultural distribution centre. This is also a significant example of standard CPR station architecture.
The arrival of the Calgary and Edmonton Railway in 1890 had several effects on the town of Red Deer. It was relocated to the present site, five kilometers east of the original settlement, and when the land north of Calgary was opened up for settlement, Red Deer's strategic location halfway between Calgary and Edmonton made it a focal point for the distribution of supplies and services to new settlers. As a result, the CPR established Red Deer as a divisional point in 1907, and replaced the original wood frame 1891 station building with this brick structure. The station acted as a principal meeting place for the community, a reception centre for the visiting dignitaries, and as the point of departure and return for troops in both World Wars. It served the city until 1985 and is the solo remaining structure of the city's once extensive railway landscape.
The building is also significant for its architectural design. It was constructed according to divisional station plan CPR X-20B prepared by CPR architect Fred Crossley. The station's structural integrity and prominent location in downtown Red Deer make it a significant landmark.
The Canadian Pacific Railway Station served the Red Deer area until 1985. The station was federally designated a protected historic site in 1990, days before it was scheduled for demolition and has since been designated as both a Municipal and Provincial Historic Resource.
Historic Site Details