Downtown Heritage Sites Gallery
City Hall Park
Located at 4914 - 48 Ave
City Hall Park, July 1955. Red Deer Archives. N3298.
In 1901 when Red Deer was incorporated as a Town there was a call for a civic square to be established which could be used for community events and gatherings. The land was subsequently purchased for $4,500 which was nearly double the town's annual budget. In 1913 when Red Deer was incorporated as a City, C. A. Julian Sharman, a local architect was hired to develop plans for the new civic centre. The economic downturn following the start of the First World War reduced the funding available for the new civic plaza so the area was levelled and grassed over. In 1913 a portion of the land was acquired by the Department of Militia for the new Red Deer Armoury.
In 1924 the Rotary Club built a playground on part of the site, and in 1943 the Elks Club built an outdoor paddling pool on the north-east corner of the plaza. In 1949, Hugh Gilchrist developed an ornamental park on the land. In 1964 after the demolition of the old City Hall a parking lot on the south side of the park was used for the new public library.
Today City Hall Park is one of the city's most visited attractions. Each summer around 40,000 annual flowers create a beautiful floral display, and each winter more than 100,000 lights create a stunning visual display.
Historic Site Details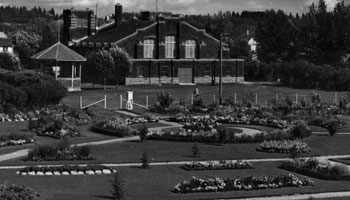 City Hall Park, ca. 1951. Red Deer Archives. P4466.
City Hall Park, 1956. Red Deer Archives. P6556.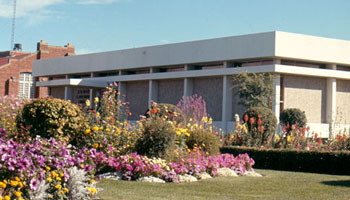 City Hall Park and Red Deer Centennial Library, ca. 1970. Red Deer Archives. N9526.