Downtown Heritage Sites Gallery
Red Deer Armoury / Fire Hall No.1
Located at 4905 - 49 Street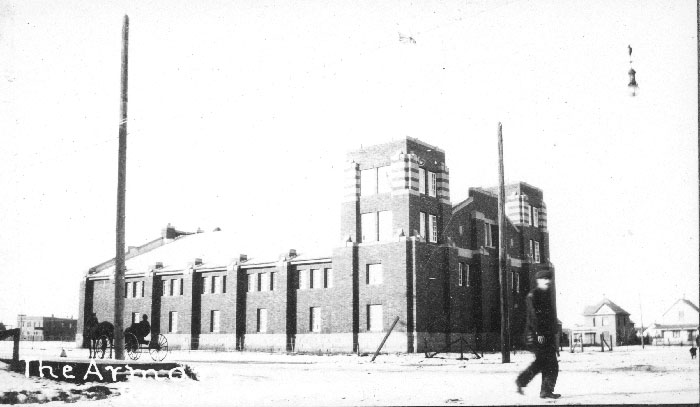 Red Deer Armoury / Fire Hall No. 1, ca.1914 - 1916. Red Deer Archives P389
The Red Deer Armoury was built between 1913 and 1914 by the Department of Militia and Defense to house the 35th Central Alberta Horse Regiment Headquarters. It served as a recruitment and training centre as well as a military barracks. In 1916 as changing warfare tactics reduced the need for mounted troops, the Armoury was transformed into the Headquarters of the 187th (Central Alberta Battalion), a unit of the Canadian Expeditionary Force in the First World War. After the end of the War the Armoury continued to be used as a recruitment office and training centre for the Department of Militia and Defense. In the 1920s and 1930s as the Armoury was the largest public space in Red Deer it was also used for non-military events such as public dances and meetings.
In 1961, while The City of Red Deer was negotiating to purchase the Armoury, the interior of the building was severely damaged by fire. The City of Red Deer subsequently purchased and renovated the damaged building converting it into Fire Hall No. 1. The building continued to be used as a firehall until 1991 when the Red Deer Public Library purchased the building. The library had a covered addition built which linked the 1913 Armoury with the Library building to the west of it. The 1913 Armoury building is now home to the Library's children's and teenager's collections.
In 1983 the Red Deer Armoury was designated as a municipal historic resource.
Historic Site Details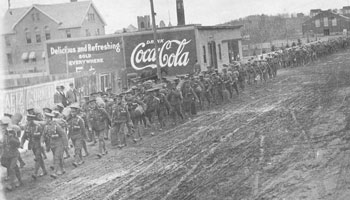 Red Deer Armoury, ca. 1914 - 1916, Red Deer Archives P2151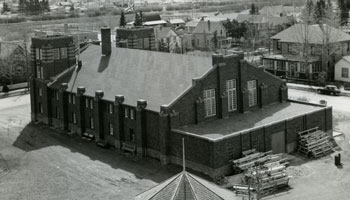 Red Deer Armoury, ca. 1953. Red Deer Archives P255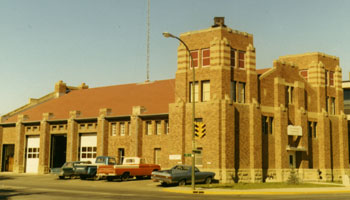 Red Deer Armoury, ca. 1960's. Red Deer Archives P192