Public Art at the Collicutt Centre
Those Who Stood Upon This Land Before Time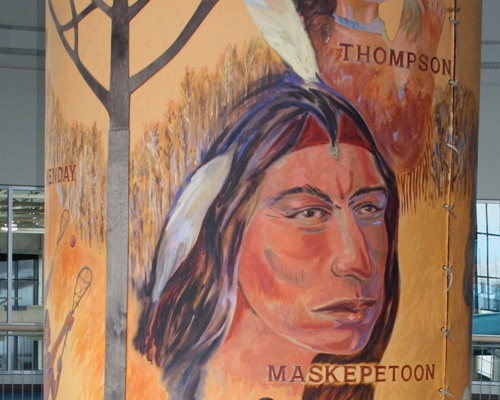 Details
| | |
| --- | --- |
| Year | 2005 |
| Artist(s) | David More & Charles Meggison |
| Type | Painting |
| Medium | Canvas, paint, metal, wood |
| Site Location | Collicutt Centre Main Street 3031 - 30 Avenue |
Description
David More, in collaboration with Charles Meggison, a local fine woodworker, created this piece by taking a cylinder and wrapping painted canvas around it.
The theme for this work, Those Who Stood Upon This Land Before Time, arose from the artists' research. They strongly felt the presence of aboriginal people depicted here in leisure activities. The portrait of Maskepetoon, a powerful native leader, dominates the canvas. Well-known explorers like Anthony Henday and David Thompson passed this way in search of furs. Metis hunters crossed the prairies in search of bison. Finally, the settlers came to farm this land and made their homes.

The cylinder is an 'external' time capsule which was originally designed to rotate once every hour to mark the continual passage of time. Two aspen trees spread up the cylinder pointing to a compass rose-mounted on the 12 radiating trusses of the ceiling. The compass rose unites the elements of the composition and has long been a metaphor for peoples' search for direction and meaning.