Public Art at the Collicutt Centre
Tile Works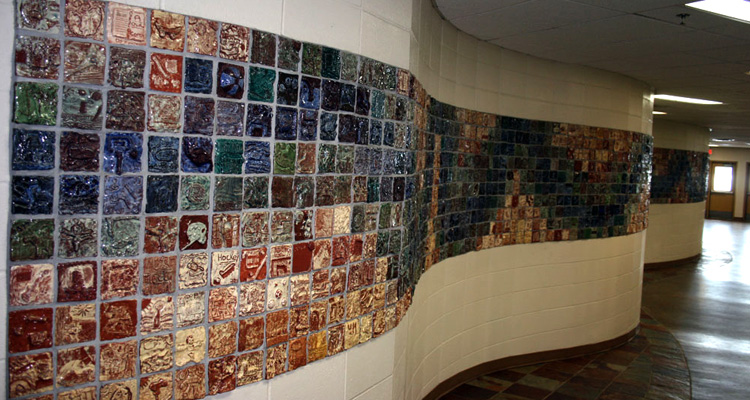 Details
| | |
| --- | --- |
| Year | 2005 |
| Artist(s) | Brian McArthur & Dawn Detarando of Voyager Art & Tile |
| Type | Mosaic |
| Medium | Terra Cotta tiles |
| Site Location | Collicutt Centre walls 3031 - 30 Avenue |
Description
This project comes courtesy of 6,500 Red Deer students who hand molded and painted the tiles that are embedded in the shape of a flowing river on various walls throughout the Collicutt Centre. Local ceramists Dawn Detarando and Brian McArthur brought raw terra cotta tiles to the classrooms and showed the students how to work with wet clay. Students were asked to express their concepts of leisure and play on the wet clay tiles.
The dried tiles were glazed with a rich palette of blues and greens. After firing, the tiles were assembled in the pattern of a meandering river that mimics the Red Deer River and the architecturally curved walls of the Collicutt Centre. Each mosaic creates a welcoming, flowing pattern drawing the visitor along.
For those artists who are interested in locating their tile work please contact Collicutt Centre Administration at 403-358-7528 Monday-Friday 8 a.m. - 4:30 p.m.