Downtown Heritage Sites Gallery
Red Deer Cenotaph
Located at 4900 Block, 50 Street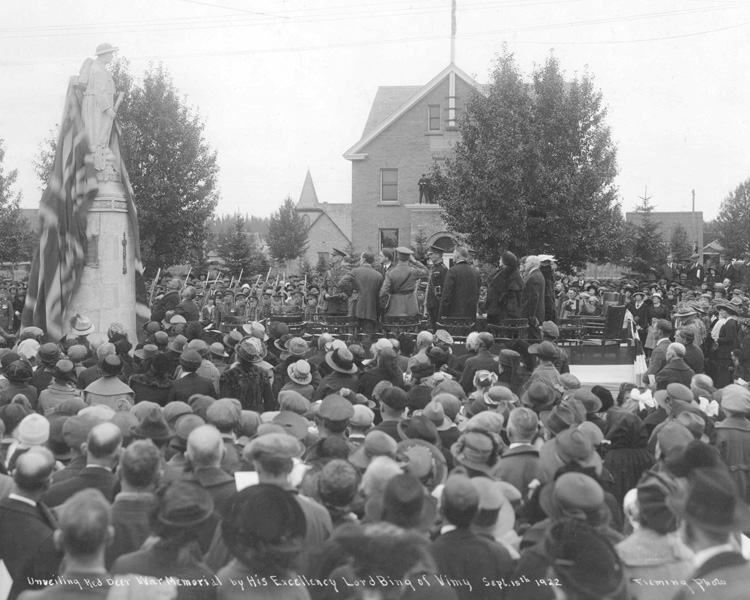 Unveiling the Cenotaph, September 15, 1922. Red Deer Archives. P2700.
The Cenotaph is Red Deer's most significant war memorial. It was intended to be a permanent memorial commemorating and honouring the men and women from Red Deer and surrounding district who served, and those who died, in the First World War. The funds for the monument were raised in a single day through canvassing public contributions.
The Cenotaph was carved from Tyndall limestone by Major Frank H. Norbury. Norbury immigrated to Canada after serving in the First World War and worked as a journalist and sculptor. Norbury, an architectural sculptor from Liverpool, England, received his first major Canadian commission from the citizens of Red Deer and District in 1921. The base for the statue was designed by local architect C.A. Julian Sharman and built by Lachlan MacLean of MacLean Granite.
The statue faces the location of the C.P.R. station where many of the soldiers departed for the battlefield. The Cenotaph was placed on one of Red Deer's busiest streets as a constant reminder of the sacrifices of those who served. The sculpture accurately represents the dress kit of a Canadian soldier during the First World War. The unknown Canadian soldier stands high upon his pedestal in the centre of the street, surrounded by the boulevard, in full fighting equipment. The figure looks west over his shoulder towards home and peace as he enters the trenches.
The memorial was officially unveiled September 15, 1922 by Lord Byng of Vimy, Governor General of Canada.
Inside the Cenotaph is a copper tube containing two scrolls, one inscribed with the names of those who served during the First World War and the second with the names of those who lost their lives in the conflict. The Cenotaph was rededicated in 1949 to include those who served during the Second World War. Another plaque was added in 1988 in memory of those who served and died during the Korean conflict.

In 2009 the Cenotaph was designated as a Municipal Historic Resource. In 2012 the Cenotaph was designated as a Provincial Historic Resource.
Historic Site Details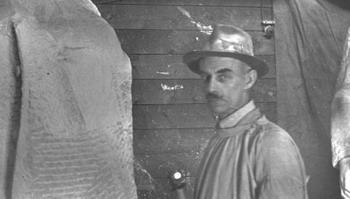 Cenotaph, 1922. Provincial Archives of Alberta A7809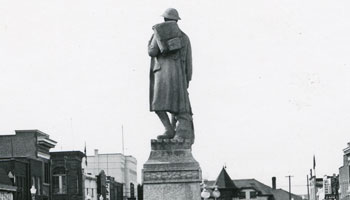 Cenotaph, ca. 1950s. Red Deer Archives. P781.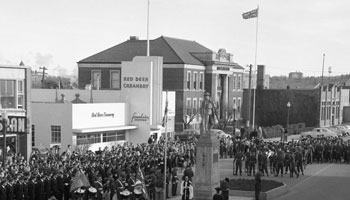 Memorial Day Service at the Cenotaph, 1954. Red Deer Archives. N3591.