Downtown Heritage Sites Gallery
C.P.R. Bridge
Located at the area between the north and south shores of the Red Deer River; SE of Plan 952 3190.
CPR Bridge & Power Plant #1, 1912. Red Deer Archives. P2708.
The Canadian Pacific Railway Bridge was constructed in 1908 for rail travel across the Red Deer River. It is Red Deer's only example of a riveted steel, engineered truss, railway bridge, common throughout North America. The double span steel truss bridge, founded on concrete buttresses with a wooden trestle extension on the south end replaced a series of earlier bridges that failed to withstand the forces of the Red Deer River. The bridge established Red Deer as the main transportation and commercial centre in Central Alberta. From 1908 the bridge carried rail traffic continuously until 1990 when the CPR line relocated west of the city.
On Sept. 3, 1991, Red Deer City Council passed a by-law designating the rail bridge as a Municipal Historic Resource and in 1993, the bridge was designated as a Registered Provincial Historic site. The bridge currently functions as a bicycle and pedestrian walkway as part of the Waskasoo Park trail network.
Historic Site Details
C.P.R Bridge,ca. 1900. Provincial Archives of Alberta B2852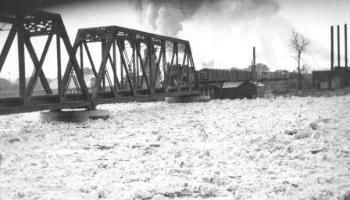 C.P.R Bridge - train used as ballast during ice-breakup, 1930. Red Deer Archives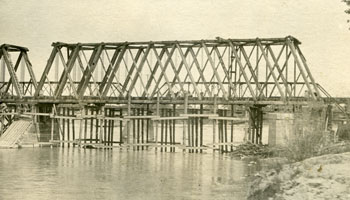 CPR Bridge under construction, 1909. Red Deer Archives. P3909.