Emblems and Symbols
Coat of Arms
The symbols on the coat of arms include:
The background of mountains and setting sun represent sunny Alberta. The dairy cows in the foreground represent dairy farming. Above the cow are six milk cans to denote the shipping of dairy products. A Van Slyke breaking plow on the bottom left of the shield represents three distinct points: farming, a Red Deer invention and a Red Deer manufacturer. An open book on the bottom right of the shield represents education. Supporting the shield on the right and left respectively are the lion and the unicorn to represent loyalty to the Crown. On the shield are the scroll and motto with the words Education, Industry and Progress. Just over the shield the dates 1901 and 1913 showing the respective years Red Deer was incorporated, first as a town and then as a city. A deer's head and scroll with City of Red Deer surmount the whole shield.
In 1915 The City of Red Deer offered a prize of $25 for the best design of a coat of arms. Mr. Alex Mitchell, of the firm Mitchell & Jewell in Red Deer, won the contest, however, his design was not adopted as the official coat of arms until many years later.
Mr. Rudolf Gehrke, a north Red Deer resident, provided a teak carving of the Coat of Arms to The City in 1965. This carving can be seen in the Red Deer Council Chambers, 2nd Floor, City Hall.
The City Crest will continue to be used by The City of Red Deer for official purposes including documents requiring the official seal, Mayor and Council use, flags, Council Chambers, City Hall, and City Awards.
Official Flag
The City of Red Deer Flag is representative of the three levels of government:
The maple leaf denotes the Federal level, the rose the Provincial level, and the City of Red Deer Coat of Arms the Municipal level. The design was approved by City Council on June 6, 1977 and the official dedication took place on August 27, 1977.
Official Tartan
The Red Deer Highland Games Association designed the tartan as part of their 50th Anniversary celebration. City Council passed a resolution on November 18, 1996, officially naming the tartan "The City of Red Deer Tartan." The colours selected for the Tartan represents the following:
Green for parks,
Red for Red Deer,
White for snow,
Blue for sky and river,
Black for oil and soil,
Gold for golden anniversary and grain.
Official Flower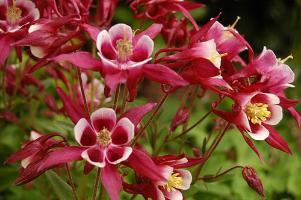 The Crimson Star Columbine represents the beauty, colour, environmental character and heritage of Red
Deer. It was adopted as Red Deer's Floral Emblem on March 16, 1992.
The Columbine is native to the parkland, growing as a perennial in hilly areas. The cultivated Crimson Star variety selected as Red Deer's official flower has a red and white floral display in the shape of a five-point star.