Great Chief Park
Winter registration is open. Click here to build your custom Activity Guide.
x
Great Chief Park boasts two baseball diamonds, two fastball diamonds, a combined soccer/football field, the Kiwanis Picnic Site, a 9-hole pitch n' putt, horseshoe pits, and various support facilities and park amenities. The site contains trails that connect the park to the trail network and the Waskasoo Park system.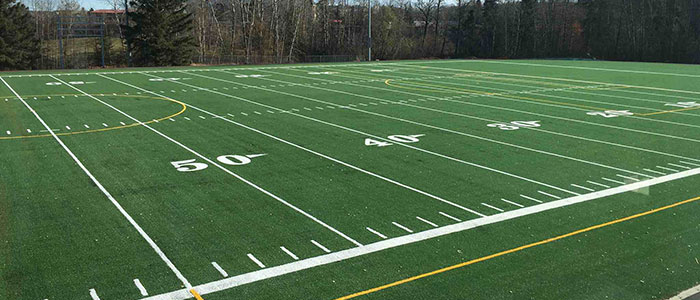 The sport fields at Great Chief Park provide top performance fields for a variety of sports enthusiasts.
Two fastball diamonds
Two baseball diamonds
Synthetic regulation sized sports field lined for football and soccer lighting
Dressing room/bathroom facility
Raised media booth
Concession, available for rental by user group
Kiwanis Picnic Park includes picnic shelter and playground, within short walking distance
9-hole Pitch' n Putt golf course, Open May 1 - Oct 1

Use of the course is by cash donation, on a first-come, first-served basis. Access to the course is on foot between the Baseball #1 and Setters Place Field fences, just past the Great Chief Park Field House.

Horseshoe pits
Fee and Access Options
If you're interested in booking Great Chief Park, or one of the various Class A or B sport fields, please email facilitybookings@reddeer.ca for more information on timelines and how to complete a rental application. Fees are applicable to games, practices, special events and tournaments.
Contact Information:
4707 Fountain Drive (map)
Onsite Staff Phone: 403-358-6325 or 403-396-5591
Great Chief Park Office Phone: 403-406-8773
Facility Bookings Specialist: 403-309-8421
Also at Great Chief Park
Pet Friendly
Responsible pet owners are asked to comply with expectations set out below:
Dogs allowed on leash within the sport field areas
Dogs restricted to non-bleacher viewing areas
Clean up after your pet. 'Dog doo' bag dispensers available on site
Pet 'refreshment' area for water access available on site
Aggressive or noisy dogs will not be permitted on the premises
Pets and their owners will be asked to leave the premises if found not following guidelines set out. Bylaw/RCMP officers can remove dogs, and/ or fine owners not complying with local Bylaws.