Memorial Benches
Memorial Benches can display an important date, personal message, name of a person or group on a plaque attached to one of the benches found within the City's park system.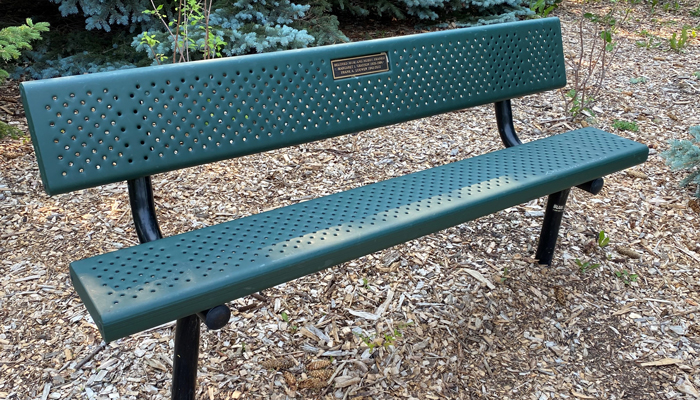 General Information
The City of Red Deer offers individuals, families and organizations an opportunity to purchase a plaque for installation on an existing bench to memorialize their loved ones. Each perforated steel bench has a steel frame, green vinyl coating and is set into a concrete footing. Wooden benches, if selected for memorialization, will be switched out for the vinyl coated steel bench.
The Memorial Bench program was started in 1997. Due to growing interest and limited availability, the program was updated in 2008 to include term limits to ensure equitable access to the program for future citizens. Parks & Public Works Administration will attempt to contact applicants who purchased a bench to renew at applicable rates for 5 or 10 years. If contact is unable to be made, or the applicant chooses not to renew their term, the plaque will be removed and stored so it can be claimed if desired.
Installation will be performed by Parks staff in the approved location and be performed during the months of May-October, depending on weather. Applicants will be notified upon installation of their bench.
Bench Options & Locations
There are many locations to select throughout the City's parks, trails, neighbourhoods and playgrounds. Please contact the Parks and Public Works department to discuss your options. The City of Red Deer must approve the location of the bench.
Examples of locations with available benches include:
Kin Kanyon
Rotary Park
Heritage Ranch
Three Mile Bend
Coronation Park
Barrett Park
Bower Ponds
Michael O'Brien Wetlands
McKenzie Trails
Neighbourhood and Subdivision Parks
Playgrounds
Costs
Fees are set by the most recent version of our 2023-2025 User Fees Guide (pdf).
Prices for 2022-2025
| Memorial | Type | Sept 1, 2022 | Sept 1, 2023 | Sept 1, 2024 |
| --- | --- | --- | --- | --- |
| New Dedication | 10 year | $1,245 | $1,295 | $1,345 |
| Renewal | 10 year | $530 | $550 | $570 |
| Renewal | 5 year | $265 | $275 | $285 |
Payment in full is required prior to installation. Applicants will be contacted for renewal after 10 years or five years, depending on the renewal term. Renewal options are not prepayable at the time of purchase. If you do not wish to renew, you can choose to receive the bronze plaque as your keepsake from the memorial.
Application
To discuss available benches, please call 403-342-8238 or email parksandpublicworks@reddeer.ca prior to submitting your application. Parks and Public Works Administrators are available by phone and email should you need assistance in completing the application.
Memorial Bench Application Form
Applications may be submitted in person at the Alto Reste Cemetery office, or emailed to parksandpublicworks@reddeer.ca. Payment may be made in person at the Alto Reste Cemetery office, or over the phone with a Parks and Public Works Administrator.
Terms & Conditions of the Memorial and Dedication Program
For full terms and conditions, please refer to the Parks and Public Works Memorial and Dedication Policy (pdf).
Notable policy statements include:
Bench plaques will meet the City of Red Deer standards. The City of Red Deer reserves the right to approve the wording on plaques. Messages must be presented in a positive and respectful way.
Approval of the proof for the bench plaque inscription will be by signature on the application. No changes or modifications can be made after the order has bene placed with the supplier(s).
The City will maintain the memorial bench and complete the necessary repairs or replacement that results from damages or vandalism within the term of the memorial.
The memorializing individual is not permitted to tamper with or relocate the memorial bench, or tamper with the area immediately surrounding it.
The City reserves the right to move or remove the bench, plaque or tree to accommodate unforeseen future events.
Placing of unauthorized permanent/non-permanent memorials within parks spaces is not permitted. Items may be removed at the discretion of the Parks and Public Works department.