Understanding Your Electricity Bill and Meter
Learn about billing, rate classes, delivery rates and meters, including submitting your meter read.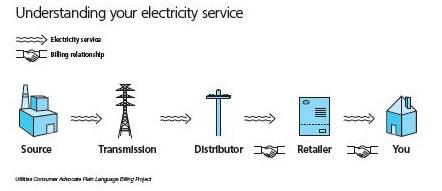 In Alberta, electricity billing can be confusing. As you can see in the diagram, there are many steps to get the electricity and billing to you, the end user. Visit the Utilities Consumer Advocate website to compare electricity and gas prices, view historical rates, or get help resolving utility related issues.
The following pages contain information on our electricity Delivery Rates, Meters and Meter Reading.
If you have questions about the gas portion of your utility bill, please contact your retailer directly.
Information about our rate classes, the components of our delivery charges and view our current rates in a table.
View our Distribution Tariff, Regulated Rate Tariff, Fee Schedules and their associated Terms and Conditions.
Information about meter access issues, meter replacement, testing and accuracy and how to get a copy of your electric usage history.
Find out more about meter reading policies or submit a read online.