Only Rain in the Storm Drain
If it flows into the storm drain, it enters the Red Deer River.
What can go in the storm drain?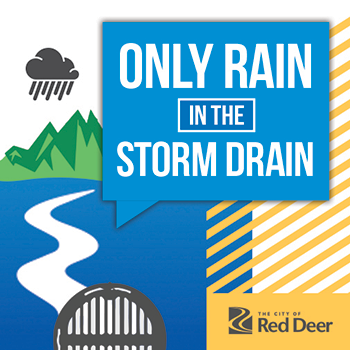 Only rain and snow melt should go in our storm water system. Anything that enters the storm drain goes directly in the Red Deer River. It is not treated at the Wastewater Treatment Plant.
As rain and snow run-off flows across sidewalks, driveways, grass and asphalt, it picks up pollutants and carries them into the storm drain – also known as a catch basin. Hazardous substances spilled, dumped, or left on the ground are washed into the storm water collection system and the river. These materials harm our environment and pollute our source of drinking water. They also add to the need to treat our drinking water during Spring Run-off.
How do I help?
Pick up litter.
Scoop pet poop.
Wash your car at the car wash.
Ensure your vehicle doesn't leak fluids.
Prevent leaves and grass clippings from entering storm drains.
Don't overuse fertilizers and pesticides. Follow directions for use, or avoid them altogether by implementing naturescaping principles.
Empty hot tubs and swimming pools into your basement floor drain or bathtub.
Minimize the use of salt or ice melt on driveways and sidewalks.
Should I report spills?
Call Utility Services at 403-342-8750 if you know any of the following materials have ended up in storm drains:
It is illegal to allow any materials other than rain and snow run-off in the storm drain, in accordance with The City of Red Deer's Utility Bylaw.