Outdoor Water Fun
Winter registration is open. Click here to build your custom Activity Guide.
x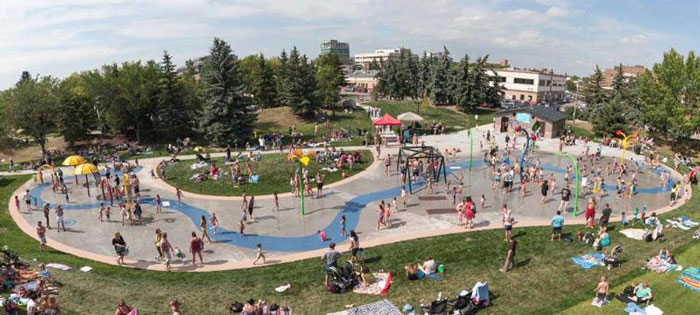 Location: Northwest corner of Rotary Recreation Park.
About: Pack a lunch, lay a blanket or bring your favourite lawn chair while your kids spray and play at this popular railway and river-themed Rotary Recreation Park feature with full water filtration and disinfection system.
Hours of Operation: This amenity opens May 15, 2023, through September long weekend from 11 a.m. – 7 p.m. daily, weather dependent.
Phone (Recreation Centre): 403-309-8428
Location: 4707 Fountain Drive
About: Paddleboats, kayaks, canoes and water balls are available for rental in the warm summer months.
Hours of Operation: See the Bower Ponds web page.
Capstone Fountain
Location Canada 150 Square in Capstone (5589-47 street) next to the Red Deer River.
About: This location has ample parking and seating options available. The water is circulated underground and sprays upward in unique patterns and designs. Public washrooms (portables) are located in the Canada 150 Square parking lot and open when the spray park is in operation. The site is maintained by our Parks and Public Works department.
Hours of Operation: Open May 15, 2023, until the September long weekend from 10 a.m. - 11 p.m. daily. Operation is weather dependent.
Location: River Bend Recreation Area, 3.5 km north of 30 Avenue from 67 Street.
About: Features a tube run and a beach-like wading area. Tube rentals, playground and concession are also available. This feature's water is not treated as it is sourced naturally from the Red Deer River.
Hours of Operation: This amenity is operated by River Bend Golf and Recreation. Visit the River Bend website and view the Discovery Canyon Hours of Operation.
For more information, please contact the River Bend Golf and Recreation Area at 403-343-6341 ext. 105.
Kin Kanyon spray fountain
Location: Just off 32 Street on 47 Avenue in the Kin Kanyon picnic area.
About: This feature is drained and cleaned every night around 6 p.m. The water used in this play area is the same treated water that we all get from our taps.
Hours of Operation: Open daily starting on Saturday, May 27, 2023.
Phone: 403-342-8238
Location: Various locations across Red Deer. Refer to the Pop-up Spray Parks page for exact locations.
About: Pop-up spray parks are popping up across Red Deer this summer. Beat the heat with Red Deer Emergency Services, Municipal Policing Services and RCMP in a neighbourhood near you. Events are weather dependent.
Hours of Operation: Every Thursday in July and August from 6:30 - 8 p.m.
Location: 4501 - 47A Ave
About: The Recreation Centre outdoor pool is a perfect place to beat the heat with family and friends. Features a 50m, six-lane pool as well as a zero depth leisure pool with children's slide and three spray features, and large deck area with numerous chairs and loungers available for public use as well as a few tables and stationary benches.
Hours of Operation: Open June 1 until after the September long weekend. See the drop in schedule for times.
Location: G.H. Dawe Community Centre - 6175 67 Street, Red Deer, AB
Access: Site can be accessed from 67 Street eastbound, or Holt Street
Hours of Operation: This amenity is open from July 8 through September from 11 a.m. – 7 p.m. daily, weather dependent.
About: Woody's Spray Park features zoned play areas that are great for all ages and experiences. The spray park has been designed with accessibility in mind, with accessible parking nearby and sidewalk access directly onto the splash pad and into an accessible washroom/change room. The site is fully fenced with access gates from the parking lot area and green spaces, and landscaping throughout. There are washrooms on site with design that considers safety, sightlines and access, as well as outdoor showers and a water fountain/bottle filling station. Visit the Woody's Spray Park page to find out how the community's input shaped the design.