E-billing and MyCity
Did you know each year over one million pieces of paper (including envelopes, bills and notices) are used to send out monthly utility bills? That's 145 trees we could be saving each year! Help us help the environment and choose e-billing.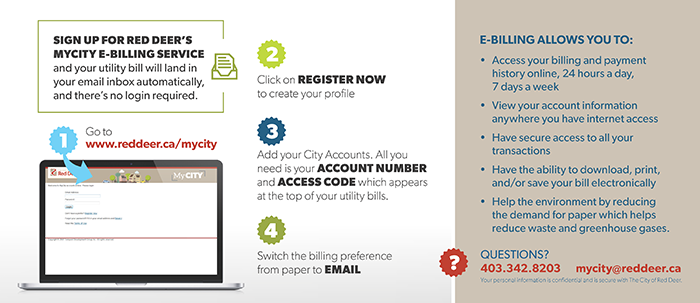 Residential and Non-Residential Online Service
Are you moving, or need to set up a new account? Would you like to submit your water reading, or change your contact information on your account? The following online services are available for our customers.
Sign-up for a MyCity account and have access to the following information 24/7:
Account Details
Balance Information
Begin accruing up to 2 years of billing history
Begin accruing up to 2 years of account transactions
Set up Pre-authorized Withdrawal (PAWS)
E-billing (you'll receive an email notification when your utilities billing information is available to view online)‌
How do I create a MyCity account?
Visit the MyCity Profile Registration page to create an account.
Complete the information fields. Please note: fields marked with a red asterisk are required fields and must be populated to proceed.
Click the Continue button and add your City of Red Deer accounts to your profile.
Your access code will be on your utility bill at the top right hand corner.
How do I sign up for pre-authorized withdrawal (PAWS)?
Log on to your account on the MyCity website.
Click the Sign up for PAWS button.
Select your bank using the drop down screen.
Complete the required banking information and click continue.
An acknowledgment screen pops up. Review the information and ensure you have read, understood and agree to the terms and conditions. Click on the check box.
Click the Submit button.
* Please note: PAWS is the pre-authorized withdrawal program for Utilities only. If you want to sign up for the Tax Instalment Plan (TIP), please visit our TIP web page.