Red Deer Mountain Bike Park
Winter registration is open. Click here to build your custom Activity Guide.
x
The Mountain Bike Park is a unique park located in North Red Deer. It caters specifically to the needs of mountain bikers although all non-motorized, non-equestrian outdoor enthusiasts are welcome.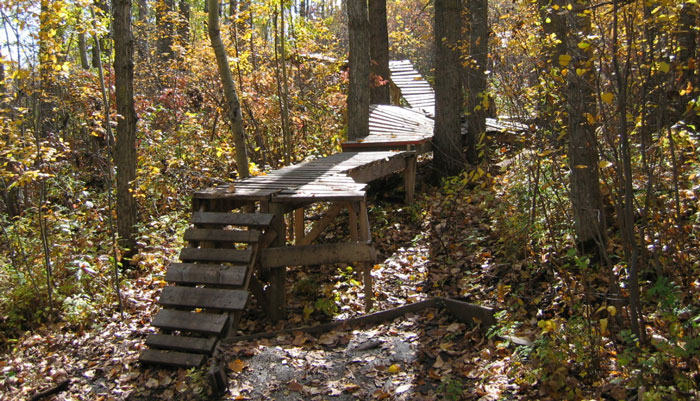 Location
The Mountain Bike Park is located east of Gaetz Avenue and west of Riverside Drive. The south entrance is located off 77 Street and the north entrance is located at the corner of 48 Avenue and 79 Street.
The Site
The park includes a large area of cross country single track trails and some trails include Technical Terrain Features (TTF's). TTF's include dirt jumps, berms, boardwalks, wood features, jumps, gaps, and free-ride stunts. Mountain Bike Park Trails are rated similar to ski resorts with: green circle markers representing the easiest trails, blue squares representing more progressive and challenging trails, and single/ double black diamonds representing trails with advanced technical terrain features. Please refer to the Red Deer Mountain Bike Park Map (pdf) and TRAILFORKS for more details and current site conditions.
The Alberta Downhill Enduro Club (ADEC)
The City has an agreement in place for the construction, operations and maintenance of the mountain bike park and the Technical Terrain Features within the park. The trails and features within the park are built and maintained by volunteers from the ADEC in cooperation with The City of Red Deer. Frequent users are encouraged to join and support the club https://www.facebook.com/albertadownhillenduroclub.
All stunt and jump construction is overseen by representatives of the AEDC who ensure stunts are properly designed, constructed, and receive regular maintenance.
Important things to remember when mountain biking
Helmets are mandatory within the park and mountain bike "body armour" is highly recommended for all dirt jumps and stunt riding;
Stunt construction within the park must only be completed by insured members of the Alberta Downhill Enduro Club;
Always inspect trails, jumps, and stunts before riding;
Building stunts in city parks is dangerous, illegal, and exposes builders to risk of lawsuits: all unapproved stunts will be dismantled when found;
Yield to uphill riders, and follow one way trail direction where applicable;
Avoid wet and soft trails – practice low impact mountain biking;
Please remember that mountain biking is a dangerous sport, always ride within your ability!
For more information, please refer to the Red Deer Mountain Bike Park Trail Map (pdf) .