Outdoor Fitness Gyms
Fall program registration is open! Create your own custom Activity Guide here.
x
Each outdoor gym contains 12 double fitness machines selected to give a broad-based general workout. Every outdoor fitness gym is free and accessible 24 hours a day.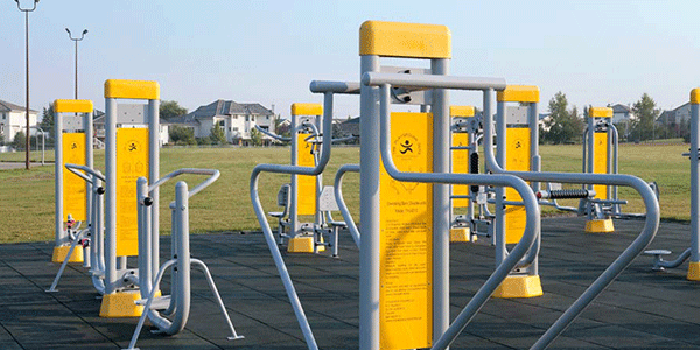 These facilities were created in partnership with the Red Deer Primary Care Network (RDPCN) - a partnership between Alberta Health Services and over 60 local doctors. The goal of adding these facilities is to increase emphasis on disease and injury prevention, and to promote active living to Red Deer residents.
Locations
| | |
| --- | --- |
| Victoria Park / Anders | corner of Allan Street and Ayers Drive |
| Oriole Park | 5204 Kerrywood Drive |
| Barrett Park | 4725 43 Street (next to Kinex) |
| Glendale Park | corner of Glendale Boulevard and Greig Drive |
| Primary Care Network Office | 5136 47 Street |
| Bower Place | 460 Barrett Drive |
| Mountview | 4316 32 Street |
| Riverside Meadows | 5616 Kerry Wood Drive |
| Rosedale | 2 Rowland Street |
| Johnstone Crossing | 105 Jenner Crescent |
How to use the equipment
To learn how to use the equipment properly, review the information on the Red Deer Primary Care Network's website.
Safety
For your safety, please follow the instructions on each piece of equipment. Anyone can use these facilities however the gyms were designed for use by those over the age of 16. Children using the equipment should always be supervised by an adult. Please be advised that this equipment is at the risk of the user.
If you require more information on the outdoor gym facilities, please contact the Red Deer Primary Care Network (RDPCN) at 403-343-9100.
If you find a problem or have a concern with any piece of outdoor gym equipment, please contact Parks & Public Works at 403-342-8238.