Recreation Centre Exercise Room
The Exercise Room is a great space to exercise on the treadmills, increase muscular strength with weights or relax on a mat and stretch. There are two exterior windows that provide some natural light, and several fans to help keep the room a comfortable temperature for exercising.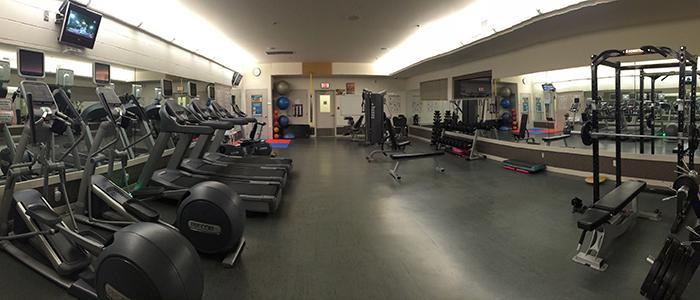 Some of the features in the room include:
Power Rack and Olympic Lifting Bar (7 Foot)
Olympic Weight Set, 335 LBS
Squat Bar Pad and T-Bar Row Holder
Precor Super Benches with Weight Tree
Wall Mount TRX
3 Precor Treadmills
2 Precor Elliptical Machines
2 Precor Bikes (Stationary and Recumbent)
Universal Exercise Station (Upper and Lower Body)
Medicine Balls
Stability Balls
Skipping Ropes
Exercise Mats
Access and Fee Options
With several admission options, you can decide whether you want to pay to play for the day or buy a multi visit pass.
Contact a Facility Booking Specialist with the details of your event to discuss booking opportunities and amenities.