Line Locating
Before you disturb the ground for any reason, it is vital to your safety to contact Alberta One Call at 1-800-242-3447 or click the logo to arrange a locate.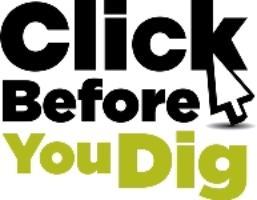 Disturbing the ground can cause damage to buried utilities. Contact with a buried line can have results ranging from temporary loss of a service for property in the area to serious or even fatal injuries. The cost of damages caused to a buried utility are borne by the excavating party.
Whether you are a property owner doing landscaping, planting a garden, building a new fence, deck or other property improvements, or a builder working on a site, or a contractor carrying out work that involves digging, it's vital to know where buried lines are present. Some lines are closer to the surface than you might expect.
Call Alberta One Call (1-800-242-3447) or click the logo to request line locates at least two full business days before you plan to work to allow time to have all the utilities at the property located and marked. You may request a locate up to fourteen days in advance. Requesting your locates early during busy Spring and Fall seasons will help ensure the locates have been completed when you are ready to start your work.
Important Information for Your Safety
Like most utility owners, we have registered our lines with Alberta One Call. However, there may be buried lines on the property that Alberta One Call is not aware of.
Electric Light & Power, along with other utility owners and their locators are unable to mark:
Privately installed lines (e.g. power from your house to your garage, decorative landscaping, etc).
Secondary lines (e.g. electrical lines past the meter).
Customer-owned utilities (e.g. water and sewer lines are the responsibility of the property owner past the shut-off valve at the property line).
The utility companies do not own these lines and therefore do not have any information about their location.
As a courtesy, while we do not own or maintain the cable going to your meter, we will locate and mark this cable for you. There are private locating companies who will locate lines such as those described above. You can find more information about it on Alberta One Call's Frequently Asked Questions .