Utility Right of Way (URW) Safety
Utility right of ways, or easements, provide safety, protection and service for the utilities that serve your property.
A utility right of way is a registered easement on private land that allows The City and various utility companies the right to access the utilities or services that are commonly buried within the right of way. Permanent structures are not permitted to be built within a utility right of way.
These easements are usually located near the property line and may contain underground cables and equipment, above-ground equipment such as transformers and poles or allowances for overhead power lines. Other utilities such as gas, water, wastewater, cable or telephone also use the easement. Our municipal Engineering Services department can assist you with questions regarding the location of easements and other requirements not related to our electric equipment.
‌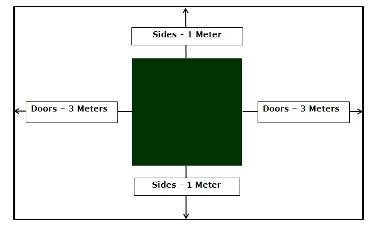 There are clearances (shown in the drawing at left) that must be maintained around our equipment to ensure that we are able to access it when required for reasons from routine maintenance to emergency repairs to public safety concerns. As an example, if we are required to disconnect power at a transformer due to a fire and cannot access the transformer due to outside interference, valuable time is lost.
For your safety and to maintain access to equipment, do not build, plant trees or change the grade within the utility easement or right of way and do not place objects on or leaning against utility equipment.
Here is an example of clear access to a transformer. Note the door is easily accessible with nothing to impede opening the transformer and the pad that it is sitting on has not been covered with any fill (dirts, wood chips, rocks, etc.).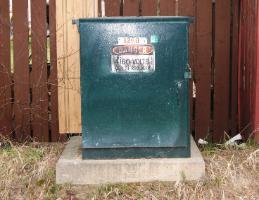 Below are several examples of what to avoid to meet clearance requirements. If you have questions about what you can or cannot do around our equipment, call us at 403-342-8274.