Transmission Master Plan
Red Deer is growing and we have a plan to handle future electric transmission requirements. Our Transmission Master Plan has the details.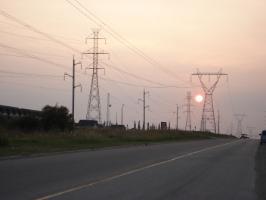 We plan, build, operate and maintain Red Deer's transmission facilities. The Transmission Master Plan (pdf) for 2011 to 2025 serves as a planning document for future electric power transmission and bulk distribution requirements. We use it to plan for growth in a sustainable and effective manner that supports long term economic development, planning interests and the reliable provision of services to you, our citizens.
The objectives of the plan are to:
provide a rational basis for The City to make technical and financial decisions on various transmission and bulk distribution projects
assess land and right of way requirements
coordinate expansion of the transmission and distribution system in new annexed areas and service territories to ensure that all capital investments are part of a long term structured plan
assist the Alberta Electric System Operator (AESO) in the development of transmission systems in and around the Red Deer area
The Transmission Master Plan, approved by City Council in April 2012, works in conjunction with the Intermunicipal Development Plan (IDP) and will be adjusted periodically as conditions change.
For more information about the Alberta electric system, please visit the Alberta Electric System Operator.