Collicutt Climbing and Bouldering
Winter registration begins Tuesday, November 28 at 12:00 noon. Click here to build your custom Activity Guide.
x
We have an amazing indoor climbing facility, boasting two climbing and one bouldering structure each with unique and challenging features.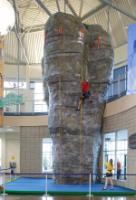 Our climbing walls are available during drop in times, through registered classes, private bookings or private lessons.
If you are a first time user of the Field House climbing wall or the Mr. Big climbing wall, we require that you sign a Climbing Waiver (pdf) (climbers under 18 years old need signature of a parent or legal guardian). A belay card is also required for the Mr. Big climbing wall only. This belay card is obtained by passing a belay test which can be taken during our climbing drop-in hours for a cost of $5. A belay card is no longer required to climb the field house wall.
Field House Climbing Wall- a waiver and an orientation must be completed for first time climbers.
Bouldering Room - All ages are welcome, waiver forms and belay cards are not required.
Outdoor shoes are not permitted. Proper climbing shoes and equipment may be signed out with photo identification. Socks are required and can be purchased for $2.
Amenity
Structure Features
Experience Level
Requirements
Equipment Required (provided with picture identification)
Field House Wall (located in Field House)
7.3 m/24 ft panel wall with gym holds and slight overhang
Beginner to Intermediate
A signed Climbing Waiver (pdf)
Mr. Big (located on Main Street)
11 m/36 ft sandstone look wall with rock ledge holds and challenging overhang
Intermediate to Advanced
Belay card and a signed Climbing Waiver (pdf)

Harness
Gri-Gri or ATC belay device
Climbing shoes

Bouldering Room
3.4 m/11 ft sandstone-look wall with gym holds
Beginner to Intermediate
N/A
N/A
Do you want to learn more about climbing? 'Learn the Ropes' program is designed to teach you all the skills and knowledge required to get your Belay Card.
You must be 13 years or older to get a belay card.
Climbers under the age of 10 will need direct supervision by age 16+ while climbing.
Talk to us about private bookings or private lessons
Phone: 403-358-4387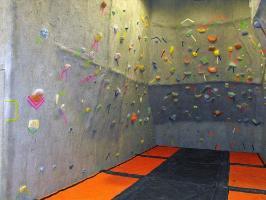 Access and Fee Options