Oxbows Off Leash Dog Park
The Oxbows Off Leash Dog Park, is a 16 hectare site designed exclusively for dogs and their owners.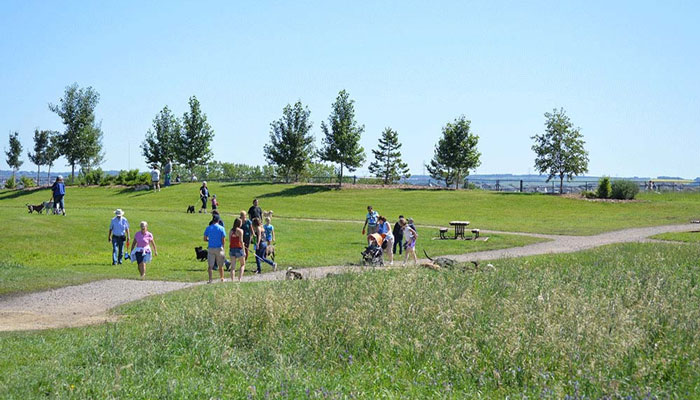 The park is located at the corner of 19 Street and 40 Avenue. The park entrance is located off of 40 Avenue.
Oxbow Dog Park map (pdf)

The site includes the following features:
entrance staging area
winding trails
diverse terrain
open training sites
rest locations
agility park
amphitheatre
interpretive kiosks
small dogs area
Due to the site's closeness to Piper Creek, the trails and amenities were designed to mirror the creek's wandering nature; hence, it has appropriately been named 'The Oxbows", as the term "oxbow" is widely used to refer to a U-shaped meander in a river.
Dog Park Requirements
Dogs must:
have current license
not chase wildlife
interact well with other dogs and dog owners
come immediately when called
Dog owners must:
keep dog on a leash until inside the fenced area
have a leash in possession at all times
keep dog within sight and under verbal control at all times
Dog Park Etiquette
In addition to the above bylaw requirements, dog owners are asked to keep their dog's vaccinations updated, and to clean up after their dogs. Please remove dogs from the area if there are signs of aggression.
Questions?
For more information please contact Parks & Public Works at 403-342-8238.