City Hall Park
City Hall Park is an ornamental park located directly west of City Hall. The park hosts 40,000 annuals every year in a variation of colours and patterns in the summer and 100,000 lights in the winter season.
Summer in the Park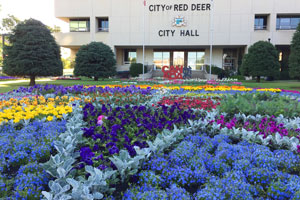 Pollinator Park
City Hall Park is a City dedicated pollinator park. This initiative protects both native and planted habitat specifically for native pollinators such as bees, butterflies, moths, beetles and hummingbirds. In these parks especially, there is no spraying for weeds or insect pests, grass is left a little longer, and the edges between grass and forest are more ragged - perfect for pollinators!
Please visit the Pollinator Park webpage for more information.
Winter Lights in the Park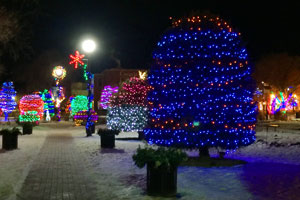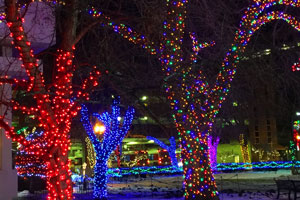 After our annual Red Deer Lights the Night event, the lights at City Hall Park will be on every night from 4:30 p.m. to 8:30 a.m. seven days a week until the second week in January. The light show on the corner of City Hall will play music and lights will flash every night from 6 p.m. until 9 p.m. daily. There are lights and decorations throughout downtown as well.
Lighting City Hall
Our City Hall lighting system is used to support events with national or international significance, local events that positively impact local community spirit, events that build community or is related to the community, and to acknowledge and welcome visiting dignitaries.
For more information, visit our Lighting City Hall page.
History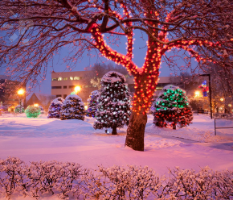 City Hall Park dates back to 1902. A legal dispute dragged on for more than a decade before the property was finally awarded to the town. From 1914 to 1924 the park was used primarily for recreation purposes, such as ice skating in the winter and baseball in the summer. In 1943 the Elks Club built a paddling pool on the northeast corner of the park. The original City Hall sat along Ross Street just west of the pool.
In 1949, Park Superintendent, Hugh Gilchrist, drew up plans for an ornamental area at the west end of the park. In 1964 a new City Hall was built and the park was expanded to include the site of the old City Hall.
In 1964 a public library opened on the south side of the park.