Maskepetoon Park
Maskepetoon Park is an ecological gem tucked away in the west end of Red Deer. Visitors can access the park via Kerry Wood Drive or Oak Drive and once there, can stroll along paths and trails that wind through the forest and marshland.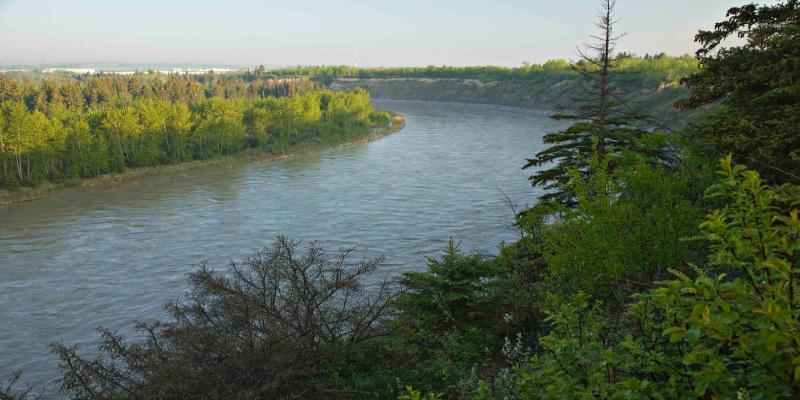 Location
Parking is located where Kerry Wood Drive becomes Oak Drive, just north of the Red Deer Golf and Country Club. Access to Maskepetoon is available from the parking lot.
The Site
The site was originally an undisturbed river valley, which was bisected by the Highway 2 bypass in 1959. Increasing human activity, developing neighbourhoods and off-road vehicles threatened the plants and wildlife in the area. With careful planning and public education, we are pleased that Maskepetoon Park has recently been re-established as a beautifully diverse natural area in the heart of the community.
The park is dedicated to Chief Maskepetoon, a noted Cree chieftain from the 1800s. A renowned warrior in his youth, Maskepetoon later became a strong promoter of peace among the tribes of Central Alberta. The park was named in his honour in 1957.
Please enjoy all wildlife from a safe distance and allow them to remain wild by not feeding or approaching them.
For more information, please view the Maskepetoon Park Master Plan (pdf).
Pollinator Park
Maskepetoon Park is a City dedicated pollinator park. This initiative protects both native and planted habitat specifically for native pollinators such as bees, butterflies, moths, beetles and hummingbirds. In these parks especially, there is no spraying for weeds or insect pests, grass is left a little longer, and the edges between grass and forest are more ragged - perfect for pollinators!
Please visit the Pollinator Parks page for more information.